Ava DuVernay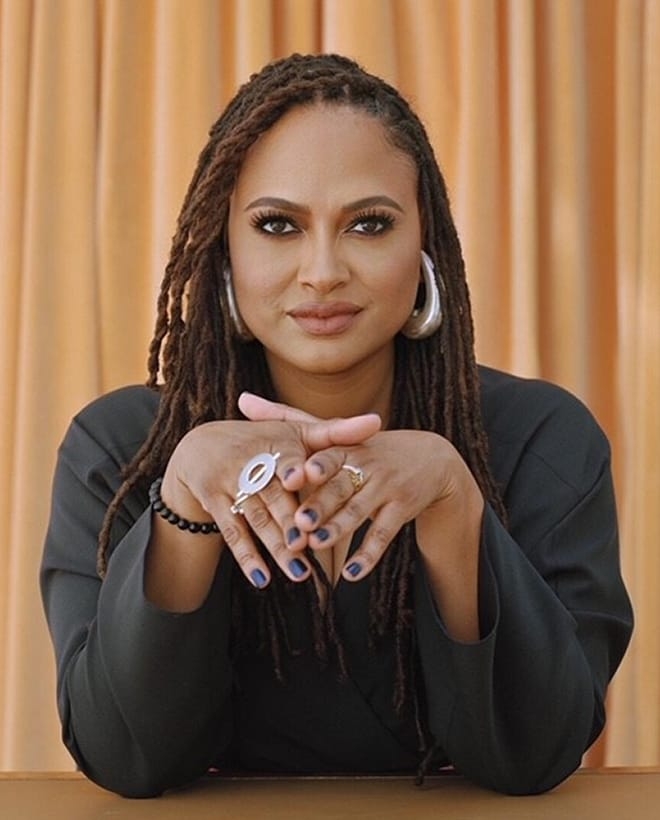 Ava DuVernay
Doctor of Fine Arts
Creator and critic, you portray the richness and variety of human experience from all angles. By elevating others, you bring new stories into focus and amplify voices we need to hear. Hollywood maverick, for challenging us to reckon with our past and our present, and for working to change both an industry and society, Yale is pleased to confer on you this Doctor of Fine Arts degree.
Ava DuVernay, a pathbreaking filmmaker known for projects that give voice to women and people of color, is widely seen as a champion for representation and justice. For her 2012 film Middle of Nowhere, DuVernay was named best director at the Sundance Film Festival, vaulting her into the cinematic spotlight and establishing her as an agent of change in the filmmaking industry. From this position of influence, she has worked to further and foster the public's knowledge of African American history.
Born in Long Beach, California, DuVernay grew up in Compton but spent summers in her father's hometown in Hayneville, Alabama. (Her father Murray's memories of watching civil rights demonstrators march across the Edmund Pettus Bridge in nearby Selma would later inspire DuVernay as she directed the Academy Award-nominated and Peabody Award-winning historical drama Selma.) Introduced by her aunt Denise to the creative arts, and encouraged by her mother Darlene to serve the greater good, DuVernay began to realize how the two pursuits could intersect when she attended an Amnesty International concert as a high school student. She attended the University of California, Los Angeles, and pursued her bachelor of arts with a double major in English and African American studies.
"Don't believe everything you think. Surround yourself with people and pursuits that lovingly, yet consistently, challenge and expand your view of the world and your experiences."
After college, DuVernay began her career as a junior publicist for studios in the entertainment business. She then launched a public relations company, the DuVernay Agency, which specialized in film and television and gave DuVernay her first direct exposure to the process of filmmaking. In 2006, she completed her first short film, Saturday Night Life, inspired by her mother's memories, and in 2008, she directed her first feature-length documentary, This Is the Life, a festival favorite that DuVernay distributed through her own production company. In 2010, she financed, wrote, produced, and directed the critically acclaimed I Will Follow, her first feature film.
The Sundance win for directing Middle of Nowhere, her second feature-length narrative, would be the beginning of a series of historic firsts for DuVernay. With Selma (2014), which put Black activists at the center of the story of landmark civil rights legislation, she broke ground as the first Black woman to direct a film nominated for best picture at the Academy Awards. Her documentary 13th (2016)—an exploration of the complex interconnectedness of racial politics with the U.S. criminal justice system—was also Oscar-nominated. Her work on Disney's 2018 adaptation of A Wrinkle in Time (2018) made her the first Black woman in American box office history to direct a film that grossed more than $100 million. 
DuVernay's television series Queen Sugar, with an all-female directorial team, has won multiple NAACP Image Awards for outstanding drama and is now in its sixth season. And her most recent project, the Emmy Award-winning Netflix miniseries When They See Us (2019), tells the story of the false accusation, wrongful conviction, and long road to exoneration for the Central Park Five, a group of Harlem teenagers.
DuVernay is the founder of ARRAY, a non-profit independent film collective devoted to distributing and amplifying the works of women and minority filmmakers. A member of the Academy of Motion Pictures Arts and Sciences board of governors, she lives in Los Angeles.
Photo of Ava DuVernay directing a scene from Selma courtesy of Paramount Pictures. Portrait photo courtesy of Ava DuVernay.